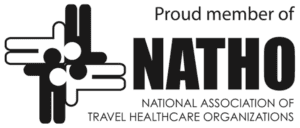 San Antonio, TX – Vighter LLC announced it has joined the National Association of Travel Healthcare Organizations (NATHO). The National Association of Travel Healthcare Organizations is a non-profit association of travel healthcare organizations, founded in 2008 to promote ethical business practices, offer educational opportunities, create a space for advocation, and set the gold standard for conduct in the travel healthcare industry. Membership is only open to staffing firms accredited by The Joint Commission currently. Vighter's COO, Mr. Robert Garcia commented "Today we demonstrate, by joining NATHO, our corporate commitment to quality staffing. We look forward to networking with our new NATHO friends at the upcoming annual conference in Chicago this coming May."
NATHO is dedicated to promoting ethical guidelines in the industry by providing a forum and resources to travel healthcare organizations through common standards of practice, committee and partnership involvement, government and regulatory advocacy and compliance, and educational programming. All NATHO members must adhere to a written Code of Ethics that covers relationships between clients, physician providers, and other Travel Healthcare firms.
About Vighter
Vighter has provided critical Professional Services to support challenging programs around the world since 2005. Today, our service offerings include: Contracted Workforce, Healthcare Operations, and Special Mission Support. Vighter has the unique ability to rapidly mobilize large numbers of professionals anywhere in the world to meet urgent requests for services and achieve mission success. 
Vighter is a CVE-verified Service Disabled Veteran-Owned Small Business (SDVOSB) accredited by The Joint Commission accreditation in Health Care Staffing Services (HCSS). The company is also accredited by the National Accreditation Alliance Medical Transport Applications (NAAMTA). As an ISO 9001:2015 registered firm, the company is committed to continuous improvement of its quality management system.
For more information, visit Vighter.com and follow us on Facebook, LinkedIn, and Instagram