Vighter Celebrates 15 Years of Business and Conducts a Change of Command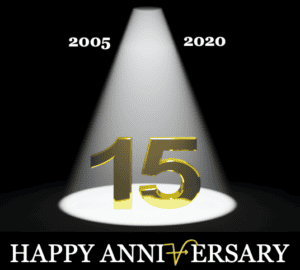 San Antonio, TX, March 18, 2020 – Today marks Vighter's 15th year of business since Dr. Jeff Lee founded the company in 2005. What started out as a one-man consulting firm grew over the years to employ hundreds of professionals throughout the United States and abroad. Along the way, Vighter has received numerous accolades and awards for its exponential growth.
Given all of Vighter's success it was fitting that, in a symbolic gesture, CEO Dr. Lee utilized one of the company's cherished awards as he passed the baton to COO Jeremy Calvert signaling the transition of CEO duties at an employee-only ceremony held at Vighter headquarters. "This transition is bittersweet, but I am very confident in Jeremy's ability to lead Vighter into the future" remarked Dr. Lee. To complete the leadership change, Vice President Mr. Robert Garcia assumed the COO role and now oversees the company's three business units.
Jeremy Calvert has been a partner at Vighter since 2012 and served as its Chief Operating Officer as well as Chief Financial Officer since 2014. He is a former US Army Special Forces medic who served with 7th Special Forces Group and 20th Special Forces Group. In addition to his roots in the Special Operations community he provided executive management and business development services for a large government contractor operating in Latin America and the Middle East.
Robert Garcia has been a partner at Vighter since 2017 and served as Vice President of Operations for the past three years. He began as a part-time Flight Nurse on a Department of Homeland Security contract in 2013. As Vighter grew over the years he was repeatedly promoted and given additional management responsibility. He has led the Operations business unit since his appointment to Vice President. Mr. Garcia is a licensed Registered Nurse with seven years of experience in project and program management of government service contracts.  
Dr. Jeff Lee founded the company and will continue as a partner at Vighter. He will be involved as a Medical Director in support of the company's healthcare operations and provide senior advisory input as needed. He plans to return to Minnesota after the transition to focus on family and pursue other entrepreneurial endeavors.  
About Vighter
Vighter has provided critical Professional Services to support challenging programs around the world since 2005. Today, Vighter's service offerings include: Contracted Workforce, Healthcare Operations, Special Mission Support, and Cybersecurity Services. Vighter has the unique ability to rapidly mobilize professionals to meet urgent requests for services and achieve mission success.  
Vighter is a CVE-verified Service Disabled Veteran-Owned Small Business (SDVOSB) accredited by The Joint Commission accreditation in Health Care Staffing Services (HCSS). The company is also accredited by the National Accreditation Alliance Medical Transport Applications (NAAMTA). As an ISO 9001:2015 registered firm, the company is committed to continuous improvement of its quality management system. Vighter is unusually responsive and flexible, which provides clients with a strategic resource to meet professional services needs in an economical and rapid manner.
For more information, visit Vighter.com and follow us on Facebook, Twitter, and Instagram